My roommate and I threw a party last weekend and invited our Boston friends (I apologize to my CT friends who are reading this.... you know I'll invite you all up soon). I love throwing parties because it gives me a chance to try out new recipes, to see what works and what doesn't, and also to visit with friends.
We spent the week before the party running to IKEA and Pier 1 to get the last-minute items that would make our apartment look put together. We have these orange hanging lights and a red rug in our kitchen so we complemented these with some orange striped towels and orange placemats, pumpkins, pumpkin tealights, and pillows. Once they decorating was out of the way, we were able to concentrate on the food!
Friday night when we got out of work, we ran to two different grocery stores in search of all of our ingredients. We were finally home and ready to cook around 10 pm. We stayed up until 3 o'clock in the morning making mini quiches, sausage and potato puffs (recipe from Food & Wine), and some goat cheese and fig tartlets laced with honey (recipe from the Better Homes & Gardens Christmas Cookies issue).
Our Saturday cooking started at 9 am. I made the stuffing for my mushrooms (olive oil, onions, spinach, garlic, and breadcrumbs for the vegetarian ones, and add sausage and ground beef to that for the rest of them), and my roommate made some pizza roll/calzone things. One was stuffed with sauce, cheese, and pepperoni and the other with turkey, ham, and cheese.
I rolled asparagus and cream cheese in honey ham and lined all the rolls up on a sheet pan so they could be popped in the oven just as our guests were arriving.
And then I sat at the table and cleaned chicken breasts, chopped them in small chunks and coated each chunk with flour, egg, and breadcrumb. These I threw into a plastic bag to be spread on the pan after the asparagus came out of the oven to bake into little chicken nuggets. I figured I needed to have one non-fussy dish.
We put together a cheese platter and a fruit platter, and set out some chocolate. I made a tiramisu cheese ball and some pumpkin dip to satisfy all the dessert lovers. I made a cranberry lemonade for the punch bowl (from Williams-Sonoma Thanksgiving book) and some hot apple cider for the crock pot. We had wine and beer and knew our friends would be bringing more. Plates, cups, and napkins were arranged, tea lights were lit, and we were ready for company.
I was serving some of the rice balls my mom and I made a couple of weeks ago. I had those thawed and made a simple tomato sauce (recipe from Orangette) and a garlic parmesan cream sauce (from my roommate's Sauces & Dips cookbook). When these were ready I kept them on low heat, warmed the rice balls in the oven and then set the sauces out in little bowls near the rice balls.
We took our mini quiches, cut them into wedges and displayed them on my three-tiered dish along with some sprigs of thyme and rosemary.
I rewarmed the sausage and potato puffs and set those out. And then our guests arrived. My roommate and I tried to play hostess and finish everything up. The mushrooms were just coming out of the oven, and we assembled the last thing we had wanted to make: a pear and gorgonzola ciabatta pizza (recipe from epicurious.com). My roommate had made a walnut pesto in the food processort earlier, so we spread that on halved ciabatta bread and topped it with havarti slices. We broiled this, then added prosciutto, pears, gorgonzola, and arugula, and popped it back in the oven until melty. This pizza was the hit of the night... and it was the first time we made it too.
Once I get better at this, I'll start embedding links to the recipes and putting pictures in the midst of my text, but for now, here are a few of pictures: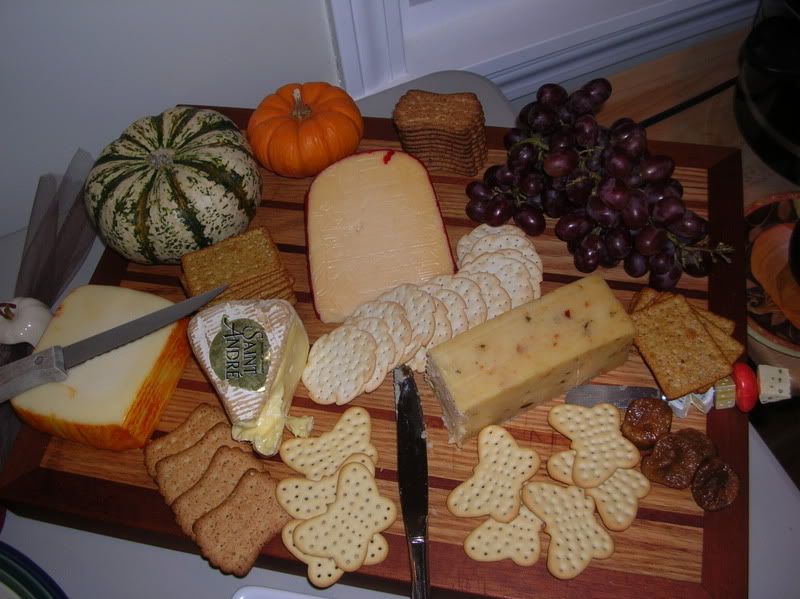 The Cheese Platter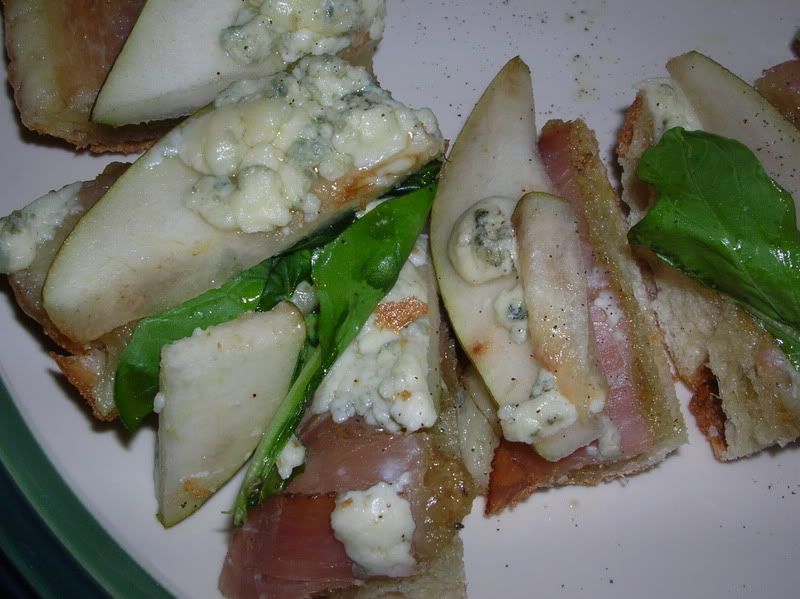 Pear and Gorgonzola Ciabatta Pizza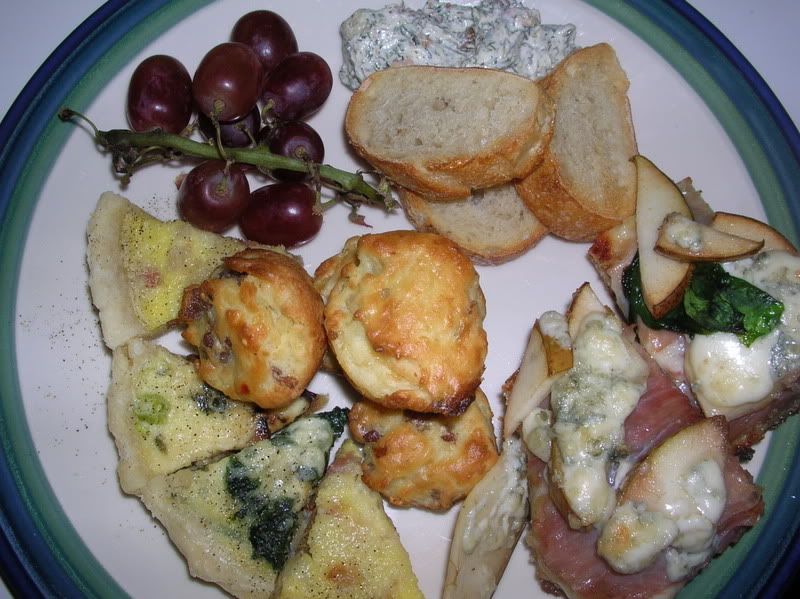 Next-Day Leftovers (includes mini quiches, bacon dip brought by my friend Erin, ciabatta pizza, sausage and potato puffs, and some grapes)
I didn't take enough pictures during the party, and so much of the food disappeared before I really had a chance to. I am going to try to get better at this!